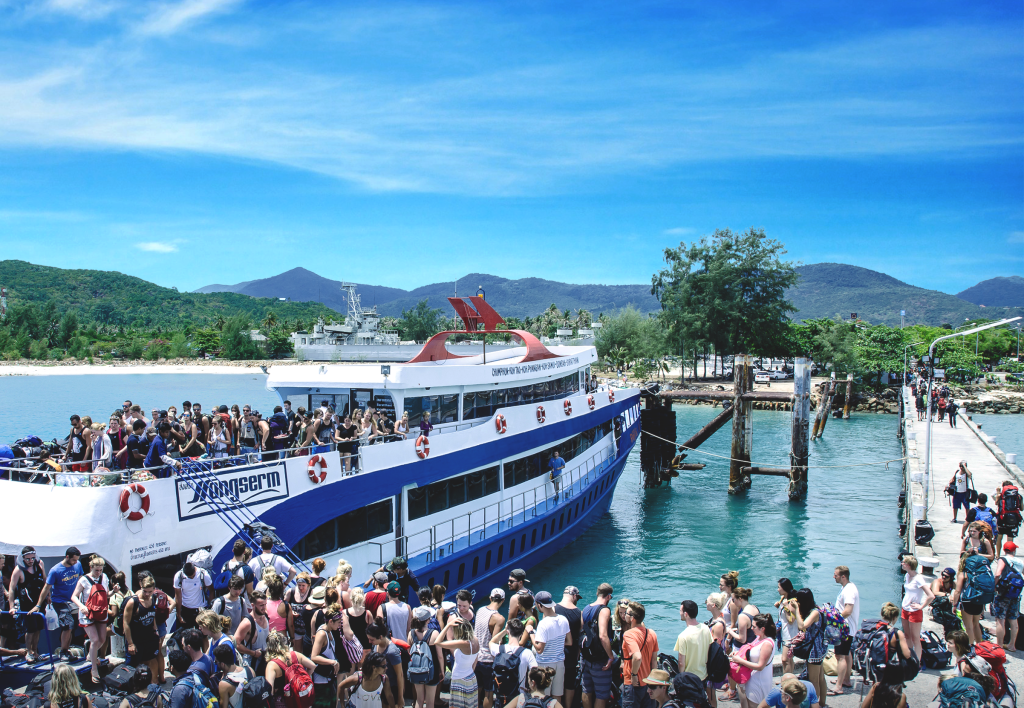 Seamlessly Bridging between Islands
Songserm has been an integral part of the Gulf of Thailand's transportation tapestry for over two decades. From connecting dreamers to their island destinations to being a trusted name in island transportation, Songserm is more than just a ferry service.
From Humble Beginnings to Trusted Voyages
Founded in 2002, our mission was unmistakably clear: to link adventurers to the enchanting islands of Koh Samui, Koh Phangan, and Koh Tao. Over the years, our relentless commitment to reliability, safety, and convenience solidified our reputation, making us a preferred choice for backpackers, families, and solo travelers alike.
Every Voyage is a Promise of Comfort
Fourfold Views: Experience the Gulf of Thailand in all its splendor. Choose from three spacious decks or the sun-bathed roof deck to find your perfect view.
Interiors Crafted for You: Settle into our air-conditioned cabins, with seats that promise comfort for every traveler. A treat awaits at our snack bar, ready to serve refreshing beverages and snacks for those mid-journey cravings.
Safety First: Songserm's commitment to safety isn't just a motto but a lifestyle. Every ferry, every crew member embodies our promise of a safe journey.
Your Journey Starts with a Click
The digital world is ever-evolving, and so are we. Our new and improved booking website is a testament to our commitment to ensuring convenience for our travelers. Secure your spot within minutes, and have your mobile ticket ready for your upcoming adventure. And should you have queries or require changes, our 24/7 chat support on the website stands ready to assist, ensuring that every step of your journey, even before boarding, is smooth.
On the Horizon
We're all geared up to set the waters alight with our soon-to-be-launched "Songserm Express." Our speedboats are designed to whisk you away even faster to your dream destinations. Starting with a direct route from Koh Samui near the airport to Donsak Suratthani on the mainland, plans are already in motion to widen our speedboat routes further.
Additionally, with our Sister Company "Andaman Wave Master", we're broadening our horizons even more. Our travelers can venture beyond the Gulf of Thailand, reaching the gem-like islands of the Andaman Sea. Krabi, Phuket, and Koh Phi Phi beckon with their unmatched beauty.
Discovering the Gulf's Treasures with Songserm
Koh Samui: The Tropical Paradise
Often referred to as a tropical paradise, Koh Samui combines the allure of golden beaches with lush, forested hills. Renowned for its luxurious resorts and pulsating nightlife, this island offers a balance for every type of traveler. Whether you're indulging in the local cuisine at the Fisherman's Village or marveling at the Big Buddha temple's grandeur, Koh Samui promises memories that last a lifetime. With Songserm, access this gem with ease and comfort.
Koh Phangan: The Island of Moonlit Celebrations
Koh Phangan is globally renowned for its Full Moon Party, but it's so much more than just a party hotspot. Dive into its crystal-clear waters, explore its secluded bays, or meditate in its serene temples. From the adrenaline-pumping water sports to the soothing yoga retreats, Koh Phangan caters to both thrill-seekers and peace-lovers. Songserm ensures your journey to this eclectic island is as memorable as the destination itself.
Koh Tao: The Diver's Dream
A haven for divers, Koh Tao's underwater world is brimming with life and color. Coral reefs teeming with diverse marine life make it a must-visit for snorkelers and diving enthusiasts. But even if you're not diving into its blue depths, the island's viewpoints, like the Mango Viewpoint, offer stunning panoramic views that leave one breathless. As your bridge to this diving wonderland, Songserm ensures every traveler reaches Koh Tao's shores with convenience and care.
Why Songserm Stands Out:
Years of Excellence: With a legacy dating back to decades, our expertise is unparalleled.
Modern Convenience: Be it through our daily ferries, our user-friendly booking platform, or our soon-to-arrive speedboats, we've always got our travelers covered.
Expanding Horizons: With our new routes and services, we're ensuring the Gulf of Thailand and beyond are at your fingertips.
Support When You Need: Our support team, available round the clock, ensures every query, every concern, is addressed swiftly.
Songserm offers you not just a ferry ride, but an introduction to the wonders that await on each island. As we sail across the Gulf of Thailand, we're proud to connect you to its most enchanting destinations. Come aboard, and let's set sail towards new adventures.